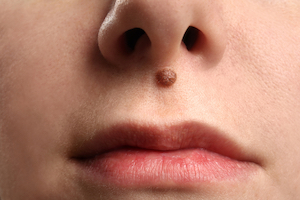 Cosmetic Mole removal, Surgical and Laser mole removal.
conditions-
Skin tags
Lumps and bumps
Sebaceous hyperplasia
Syringoma
Cysts, lipomas, soft tissue swellings
Pigmented & nonpigmented moles
Seborrhoic keratosis
Xanthelasma
Being so pleased with the results of CO2 laser skin rejuvenation I have returned to have a small mole removed with the laser, which was very quick and painless also with great results!..
Video of xanthelasma removal with CO2 Laser
We prefer to use CO2 laser for surgery in most instances. Laser is a precision tool and results in a much better and smaller scar than conventional minor surgery or cryotherapy. In most instances the scar is barely perceptible.
Exclusion criteria
we are unable to treat you if you have-
*Suspected skin cancer
*changing, large pigmented moles
In these circumstances it would be prudent to see your GP for NHS treatment
*uncontrolled diabetes, high INR or bleeding tendency