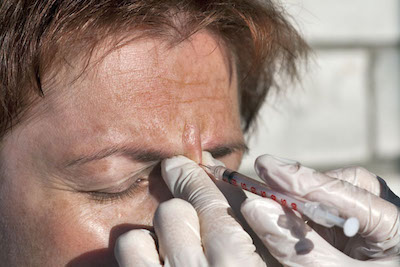 Having had botox in about six different clinics, both sides of the atlantic, I find Coltishallclinic provides the best results every time. It has been worth my 200 mile round trip to Norwich to get here today.
Mrs A
Had botox before, just had it done here for the first time. This is the best result in five years. Looks very natural. I feel fab. Thank you...
I have been having botox for ten years and coltishall clinic easily has the most experience. The whole treatment is worked out professionally-rather than the haphazard treatments I have received in the past. Have just had 2nd botox treatment here and will return indefinitely....
Full face contouring- Botulinum toxin injections are commonly used for treatment of frown lines, forehead lines and crow's feet. We also find injections a very popular treatment for under eye wrinkles, lower face, jaw line and neck contouring. We also use it in the mid-face for correction of facial asymmetry, gummy smiles, slimming of jaw line, bruxism, teeth grinding etc
We use botulinum toxin injections for treatment of migraines and excessive sweating, We have many tools and techniques at our disposal to make this treatment a comfortable experience for you. Minor bruising can occur with any injectable but most of our patients do not experience this and get back to normal activities straightaway.
The natural look
Injection treatment is fast, simple, and minimally invasive, with no downtime or recovery. Most people return directly to work or normal activity following treatment. Within days, they report looking more natural and relaxed. Various named drugs are used for these procedures such as Botox, dysport, azzalure, neurobloc and Vistabel. Remember that these are prescription only medications and must be administered by appropriately trained and qualified medical professionals.
There is a lot of misinformation about injection treatment but it is the most popular cosmetic procedure in the world today and with good reason too. It works well for most people whether you are a man working in public relations, entertainment or sales or a lady who wishes to get rid of her wrinkles, change the shape of her eyebrows or soften lines around her eyes, mouth or neck.
You laugh, you frown, you raise your eyebrows, you concentrate, and, over time, these expressions leave their mark upon your face. We can help you if you wish to get rid of that scowling/ frowning look, lines on your forehead or around your eyes, smokers lines around your mouth, if you desire a better lip definition, eyebrow elevation and for many other areas. Another exciting new development is the use of muscle relaxing injections to achieve a defined outline of the jaw. The so called "Nefertiti lift". We also use it for treatment of neck bands and sometimes on decolletage.
Glabellar lines

Crows feet

Forehead wrinkles

Forehead wrinkles
See us for-
1] comfortable experience
2] none to minimal bruising
3] natural results
4] longer lasting results
5] full range of alternative options
Advanced uses of botulinum toxin injections
Slimming of lower face
Teeth grinding
Facial asymmetry
Neck and jawline tightening
Treatment for sad face to provide you with a happy face
Chin dimples
Excessive sweating of underarms, hands, feet, forehead and scalp
Treatment of migraines
New concept of Micro Botox

What is it?
A special technique to provide very natural looking results, improve pore size, reduce redness and oily skin and improve superficial wrinkles, acne scars etc

Is it approved?
No it is not licensed for this indication but we have used it successfully for many years and it is now being spoken about in medical conferences also.

Will in make wrinkles disappear?
No, it will improve them

Is it different from normal botulinum toxin treatment?
Yes, normally we target specific muscles that produce wrinkles, here we inject micro doses more superficially

Who is suitable for micro botulinum toxin injections?
Patients with acne prone oily skin. It is not suitable if you want improvement in deeper wrinkles but in this case it can be combined with normal botulinum toxin treatments. This is not a first line treatment for such conditions and we have a full range of other treatments on offer. This is considered if other options have not been greatly successful for you or it can be combined with other treatments.

How I is it done?
We apply a numbing cream and then there are about 80 injections over the whole face with a tiny needle.