Our L.E.D light Systems are a safe, but effective use of advanced light technology designed to help diminish the visible appearance of fine lines, wrinkles, and age spots on the face, neck and hands by promoting collagen firmness. Blue light is used for treatment of acne by reducing acne bacteria. Red light is used for rosacea and anti-ageing.
L.E.D or light emitting diode technology produces pulses of visible therapeutic light over many wavelengths that deliver energy to all layers of the skin. NASA has carried out research on LEDs for healing astronauts.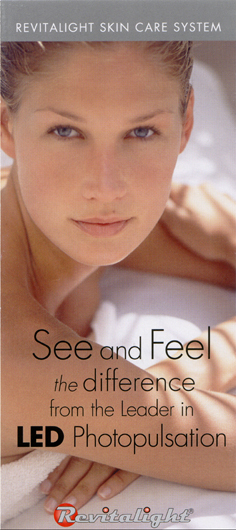 The key to Revitalight's photopulsation technology is the scientific concept that skin cells can be photoreceptive. The LED wavelengths which are used in the Revitalight Skin care System are completely harmless, yet effective. The LED succeeds by passing its light through the skin in order to help promote collagen firmness. The skin naturally appears smoother, tighter, and more radiant as the collagen becomes more firm. Most clients notice improvements just after one session but it is generally recommended to have 6 sessions every 7-14 days. This produces best results.
We also use a LED panel celluma therapy device.
This procedure can be combined with other treatments such as diamond microdermabrasion and oxygen facials.
This procedure is carried out by our aestheticians and is a very enjoyable experience.
It can also be used after laser and IPL photo rejuvenation to sooth the skin and accelerate the healing response.
Prices
From £ 45 per session for full face treatment
Prices for hands, back, chest and other areas available at consultation.