With so many places now offering cosmetic treatments in a salon or spa the doctor-patient relationship has been somewhat forgotten. We believe that advanced laser skin treatments must be conducted under proper medical supervision. Best results are obtained when treatment is guided by a trained and qualified practitioner advising patients based on their unique needs. We are proud to offer cutting-edge, evidence based, proven treatments.
Clinical Director & Laser Surgeon
Dr Sanjay Gheyi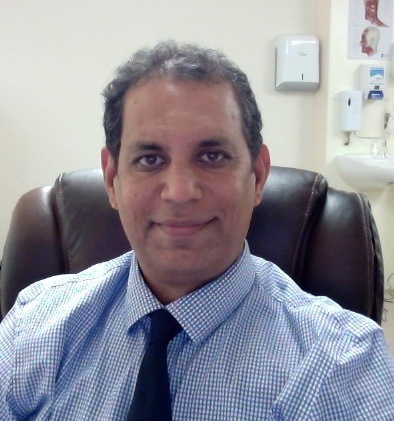 Dr Gheyi has triple board certifications in General Surgery, Family Medicine and Anti-ageing Medicine. He devotes full time to his Aesthetic and Anti-ageing practice. He personally administers thousands of laser, injectable and surgical procedures each year. He worked in NHS hospitals for 21 years in surgical specialties and last 5 years in dermatologic surgery.
He is an invited speaker at laser seminars and mentors other doctors training in lasers and cosmetic dermatology and surgery.
He is a trained and qualified surgeon. He has extensive clinical experience both in the UK and USA and has attended numerous perceptorships in cosmetic medicine & surgery. He has built a premier laser practice with twenty three different state-of-the-art laser and light systems and he continues to invest in training and new technology.
Please note that coltishall cosmetic clinic is a private clinic and these services are not available on the NHS.
Qualifications, Memberships and Certifications
Bachelor of Medicine and Bachelor of Surgery
Master of Surgery
Fellow of Royal College of Surgeons
United States Medical Licensure
Family Practice certificate
Board Certification in Anti-Aging Medicine
Member of British association of sclerotherapists
Member of International Academy of Cosmetic Dermatology
Member of British Medical Laser Association
Member of World Society of Anti-aging Medicine
Member of American Academy of Anti-aging Medicine
European Masters in Aesthetic & Anti-Aging Medicine
Member of American Academy of Cosmetic Surgery
Member of British Association of Cosmetic Doctors
Radiation protection certificate
Laser protection certificate
Botox training certificate
IPL and laser training certificate
Dermal filler [Restylane, Perlane ] and collagen training certificate
AgeraRx training certificate
Restylane Vital training certificate
Radiesse training certificate
Restylane tear trough certificate
Restylane SubQ certificate
Advanced course, Mesotherapy & Carboxytherapy, Paris, France
Advanced course, Global Anti-Aging Medicine
Dermaroller training certificate
International Master Course in Ageing Skin
Co2 laser training- UK, USA & Italy
Ultrasound body contouring, fat reduction and radiofrequency training
Restylane international masterclass, Paris
EVLT training for varicose veins UK & Italy
Liposuction, abdominoplasty & fat transfer training, Milan & New York
European Venous forum, hands on training on venous diseases
Comprehensive facial cosmetic surgery training, Virginia, USA
Iguide necklift training course, UK
Blepharoplasty perceptorship, Wilmington, USA