Hirsuties coronae glandis (also known as "hirsutoid papillomas,"and "pearly penile papules") are small whitish spots or blemishes on glans penis or corona glandis. The papules appear as one or several rows of small, pearly or flesh-colored, smooth, dome-topped bumps. It is a harmless anatomical variation. They are found significantly more often on uncircumcised men and younger men.
They are common and estimated to be present in a quarter of adult men. These bumps are not transmitted through sexual activity and are not a sexually transmitted infection (STI).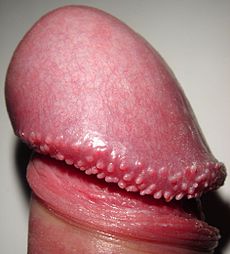 Treatment Some of the "home remedies" found on the Internet and elsewhere use mild ointments or creams to soften the papules, but others are physically dangerous techniques for papule removal which can result in permanent genital mutilation.
Since dermatologists have safe, effective ways to remove them if desired, home remedies involving corrosive substances or self-surgery should be avoided, since they can permanently damage sexual functioning.
CO2 laser ablation is the gold-standard treatment for PPP or pearly penile papules. We use a local anaesthetic cream to numb the area. Laser ablation is then a quick and painless procedure. Smaller papules are vapourised in an instant. Larger ones form a superficial scab which falls off in 7-10 days.
Cost typical cost for a session is £ 750 and usually only one session is required. You may need more than 1 session if there is a large number of spots!